salam wbt .! tgk entry kt ats ? yes .! mcm nak menjerit .! tp bkn stakat nak menjerit , nak melompat , nak menari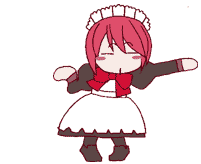 .
huhu . kadang-kadang tsengeh-sengeh sowg-sowg . (byk btul pkataan bganda)
but y ? napew nak jerit ? napew nak menari ? bsyukur ke hadrat Illahi aku pass n bjaya n layak utk meneruskan praktikal sem dpn .! yes .! n lagi my ROMEO pown pass jgak .! ktew sma2 leyh graduate nnt kn syg kan ? kan kan kan .!! wah .!! bahagia nye .! hehe .

to sayang , tengs a lot coz always be my side all d time . siyesly sayang la sumber inspirasi b nk bsaing , bg bie spirit .! xknal sayang , xsampai tahap nie dah la bie . hehe . mesti sayang senyum2 bca kan ? huhu .
too mak abah .! tengs sbb always pray for the best for ur daughter n son .! tengs for the blessing for me n for my relationship with APEK .! ur d best .
n lastly , congrats too all fren yg pass n dean .! congrats .! ayuh , ktew truskn pjuangan praktikal plak . all d best .